watch here for future scheduled events
WHAT A HUGE SUCCESS!!!!!! 
OVER 200 PEOPLE ATTENDED THE EVENT.
Additional events are planned later this year.  Watch this space!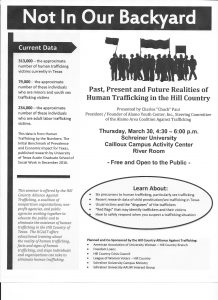 Not In Our Backyard
A Seminar to Address
the Past, Present and Future Realities of
Human Trafficking in the Hill Country
Thursday, March 30, 4:30 – 6:00 p.m.
River Room
Schreiner University Cailloux Campus Activity Center
Free and Open to the Public
Seminar participants will learn:
the six precursors to human trafficking, particularly sex trafficking
the most recent research data of child prostitution/sex trafficking in Texas
who the victims usually are and the "disguises" of the traffickers
the "red flags" that may identify traffickers and their victims
how to safely respond when you suspect a trafficking situation
Recent data:
around 313,000 people in Texas are currently human trafficking victims,
of whom nearly 79,000 are minor and youth sex trafficking victims,
and 234,000 are adult labor trafficking victims.
This data is from Human Trafficking by the Numbers: The Initial Benchmark of Prevalence and Economic Impact for Texas, published research by University of Texas Austin Graduate School of Social Work in December 2016.
For the full report 110 page report go to: https://www.scribd.com/document/337465150/Human
Trafficking-by-the-Numbers-2016#from_embed
On 10/4/2016 there were 6,374 escort profiles listed on various Internet sites that service the Hill Country. These escorts were listed to serve the Hill Country cities of Kerrville, Ingram, Comfort, Harper, Medina, Fredericksburg, Boerne, Lakehills, Scenic Oaks, Fair Oaks Ranch, Cross Mountain, Helotes, Blanco, Johnson City, Timberwood Park, Bulverde, Shavano Park, Hondo, Mason, Junction, Castroville, Canyon Lake, Sabinal, La Coste, Llano, Horseshoe Bay, Granite Shoals, Kingsland, and Selma.  One Backpage site had 85 registered escort profiles just for Kerrville, TX.
The March 30th Human Trafficking Awareness Seminar is offered by the Hill Country Alliance Against Trafficking, a coalition of nonpartisan organizations, non-profit agencies, and public agencies working together to educate the public and to eliminate the existence of human trafficking in the Hill Country of Texas.  The HCAAT offers educational training about the reality of human trafficking, facts and signs of human trafficking, and steps individuals and organizations can take to eliminate human trafficking.
This seminar is planned and co-sponsored by the Hill Country Alliance Against Trafficking:
American Association of University Women – Hill Country Branch
Freedom Loans
Hill Country Crisis Council
League of Women Voters – Hill Country
Schreiner University Campus Ministry
Schreiner University AAUW Interest Group
For more information please contact Meg Scott-Johnson, League of Women Voters -TX Human Trafficking Issues Chair for Legislation, lwvtx-trafficking@gmail.com.